Are you looking for answers to the given below questions?
Do you want structured, ready-to-use eCommerce web data to keep track of competitor products and pricing in real time?
Do you want to drive strategy, personalization, & growth with web data for the travel industry by comparing prices on competitor sites, monitoring how customers search and plan travel, & forecast the next travel industry trends?
Do you want to beat the market & your competitors with alternative data for finance that can generate actionable insights for equity research, venture capital investment, and portfolio management?
Do you want to maximize every advertising dollar by protecting your brand, verify ads, & conduct real-time ad intelligence for optimized data-driven campaigns?
Do you want to get control of rankings & find the next big trends by collecting results from any search engine to analyze website traffic & keywords, improve SEO, and to perform product & brand placement, lead generation, and trend monitoring?
Do you want to master the art of social media marketing with web data by dominating your industry space on social media with smarter campaigns, anticipate the next big trends, & understand your customer journey in real-time?
Do you want to see what your customers see, anywhere on Earth, that can uncover any issues that compromise your user's experience with real-time data on your website's performance?
The answer for all the above questions is Bright Data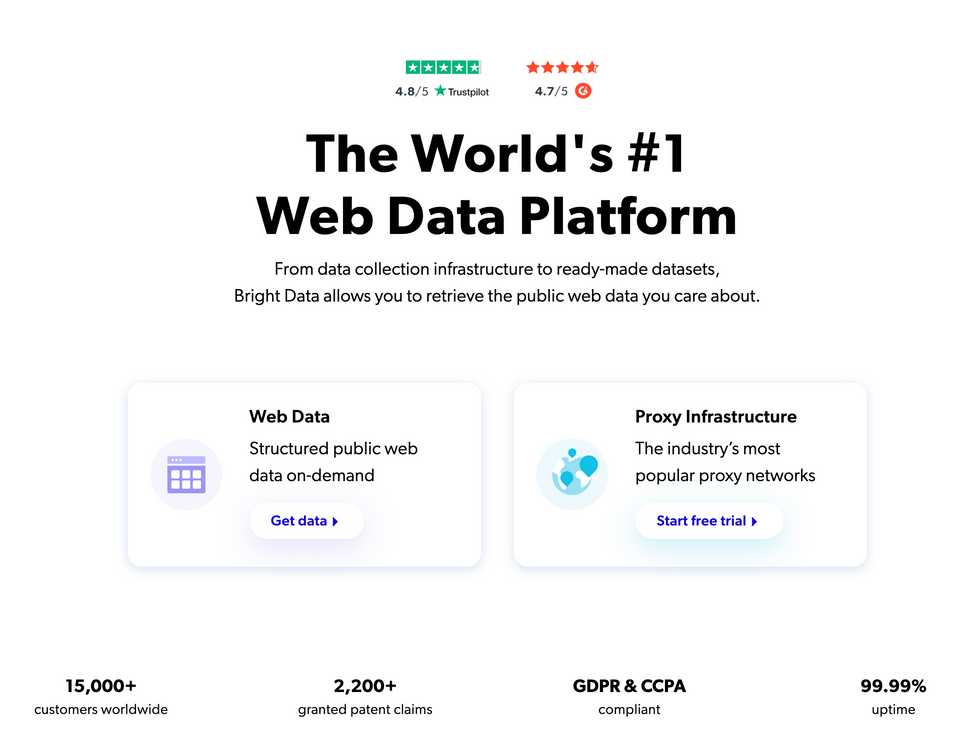 Bright Data is the world's #1 web data platform. Fortune 500 companies, academic institutions and small businesses all rely on Bright Data to retrieve crucial public web data in the most efficient, reliable, and flexible way. With this data, they can research, monitor, analyze, and make better decisions.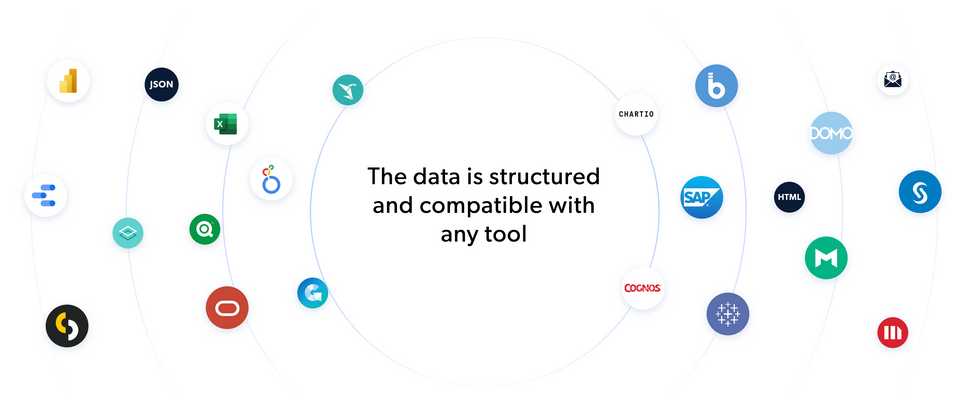 Bright Data is used worldwide by customers in nearly every industry. Products include a range of no-code data collection solutions, and a robust infrastructure used by engineers and IT professionals.
Users love Bright Data because they provide:
A cost-effective way to perform fast and stable public web data collection at scale.
Effortless conversion of unstructured data into structured data.
A superior customer experience, while being fully transparent and compliant.

If you are running an eCommerce business, with Bright Data, you can,
Revolutionize your pricing strategy with competitive insights and intelligence

Uncover each competitor's current pricing for every product: list price, selling price, and discount.
Compare prices of identical products for all competitors to unlock dynamic pricing models in real-time.
Find the exact match for each SKU and track price changes. Chart the price history for each product.
Be alerted to new sales and promotions.
Determine the right price for every SKU, neither too high nor too low – on every channel, all the time.
Optimize your inventory with real-time product discovery and matching

Unlock competitor product catalog, inventory status, and extract all product information.
Maintain your own accurate product profiles.
Discover new categories / products to compete in.
Be informed in real-time when your suppliers introduce a new brand line so you can incorporate the SKUs into your site quickly.
Tap into numerous competitors simultaneously to discover gaps in inventory to be exploited.
Monitor consumer sentiment

Find out which categories and brands are trending in each country.
Validate styles, assortment and merchandising decisions to ensure the right commercial offer.
Spot shifts in consumer demand and quickly identify products that have decreasing/increasing popularity among buyers.
Understand the journey of your potential customers and uncover challenges they face.
Focus your marketing efforts on best sellers.
How it Works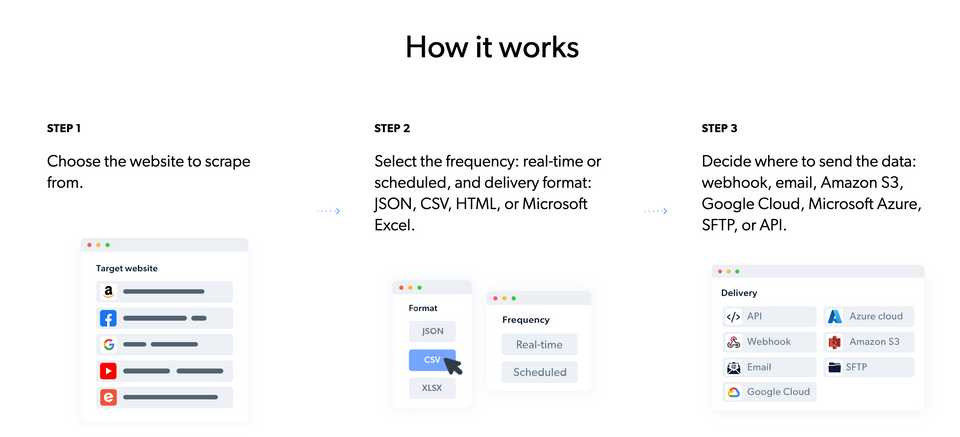 Extract data and optimize your pricing strategy, with real-time comparative flight, hotel, & tourism data using an automatic data collection tool.
Generate actionable insights for equity research, venture capital investment, and portfolio management.
Website scraping tool that makes data extraction easy. Scrape websites to collect public data without coding.
AdTech solutions for brand protection and ads verification. Conduct real-time ad intelligence for optimized data-driven campaigns.
SEO tool that scrapes all major search engines. Monitor keyword rankings, products, and pricing. Extract metadata from SERP for lead generation.
Verticals that Bright Data serves are: Ad Tech, Data as a Service, Finance, Intellectual Property, Marketing, Product Releases, Testing, Real Estate, Retail, Cyber Security, Travel, Talent Sourcing, and Web Data Extraction.
Public Web Data
Public Data is Changing How Companies See, Think and Make Decisions. Today, the web data adoption curve is rapidly accelerating and is used in order to make better decisions based on accurate and actionable data. Companies and organizations across multiple industries, from finance to travel, market research to eCommerce use public web data to gain a competitive edge. Web data collection tools are like having a superpower, when used correctly you will be working with a secret advantage.
This short documentary explores how public data is changing the way companies see, think and make decisions.
Bright Data provides pre-packaged datasets, use Bright Data self-service collection tools, or utilize Bright Data infrastructure to build your own.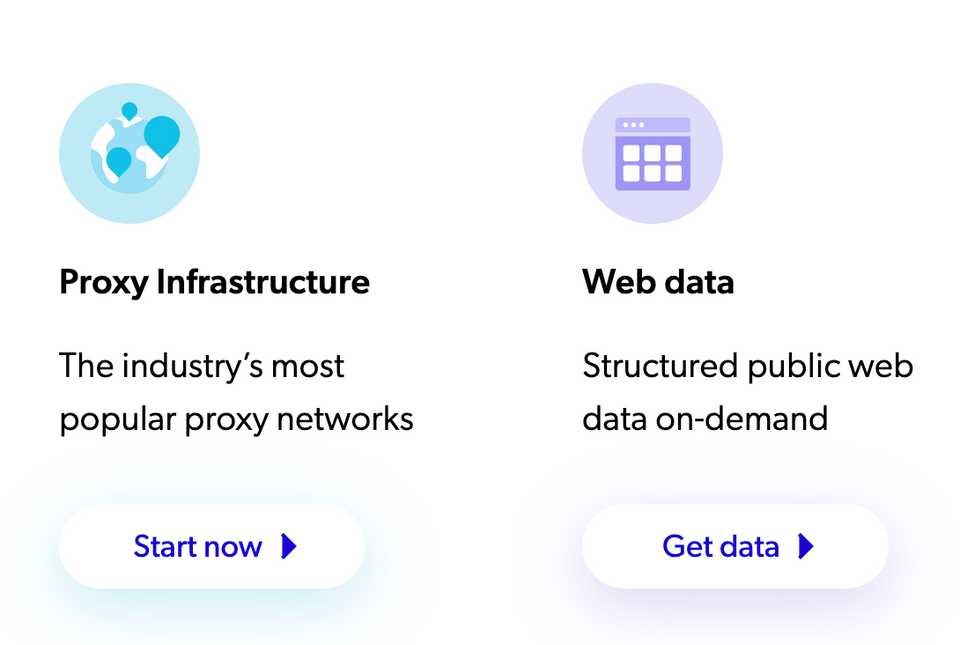 Bright Data Solutions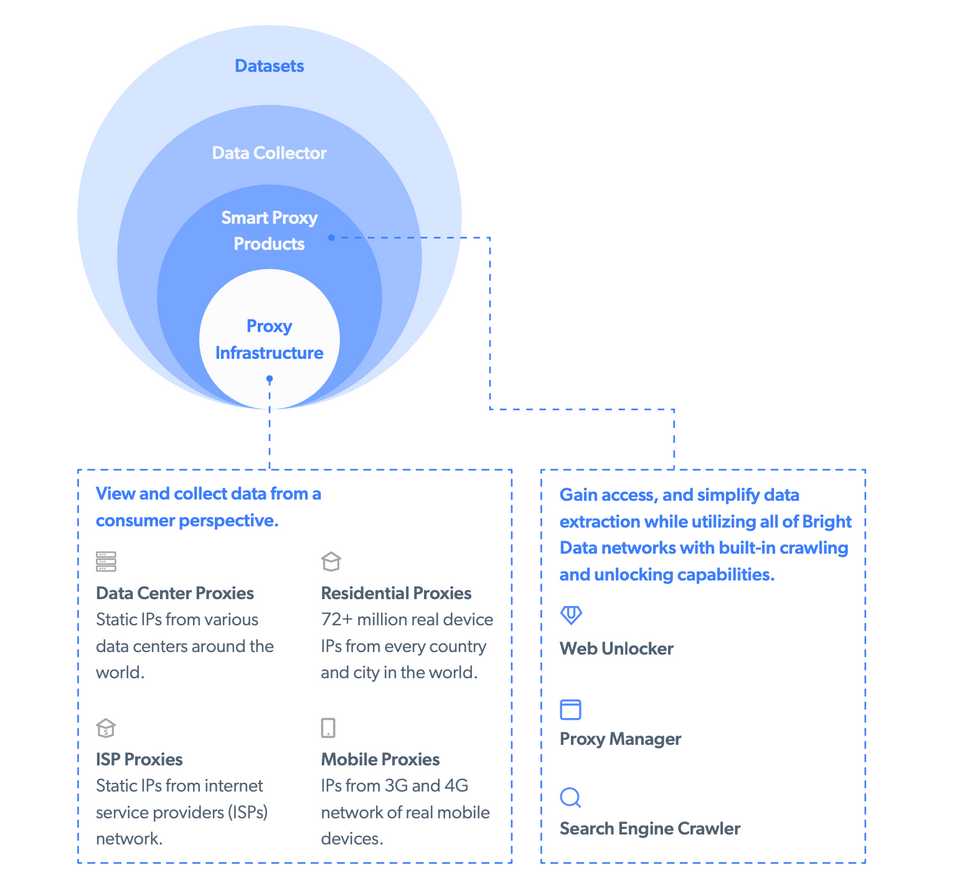 Ending Note
Choosing a web data tool for your company's needs can be a daunting task. Bright Data offers exclusive 'Click & Collect' technology, a transparent pricing model, and high quality, GDPR/CCPA-compliant data that ensures the long-term value of your data pools, and derivative front-end products.